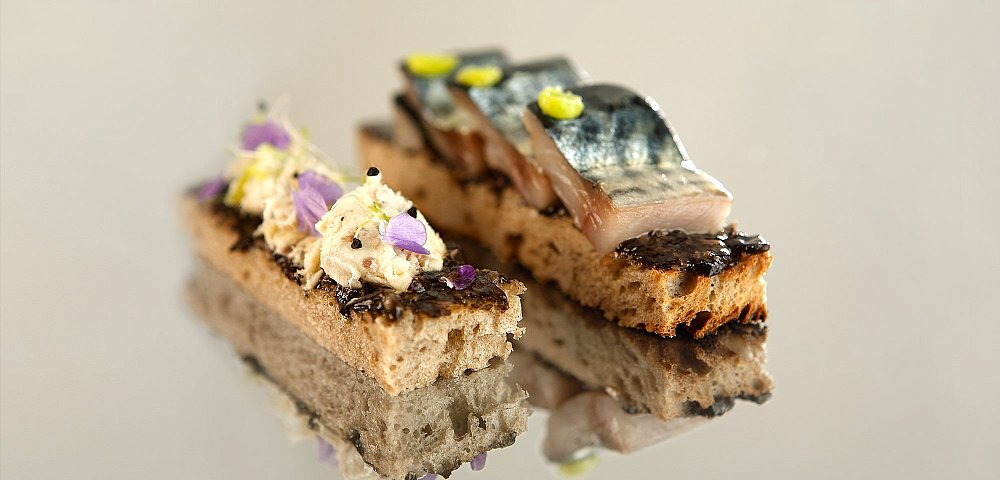 Duo of rillette and mackerel marinade with nori seaweed tartare
Ingredients
Serves 4:
• 4 big slices of farmhouse bread
• 4 large, very fresh mackerel, cut by your fishmonger
• Wasabi
• 1 spring onion
• 2 lemons
• Organic olive oil
• 100g of lightly salted butter
• 1 jar of nori seaweed tartare
• 2 tablespoons of cream cheese or yoghurt
• Salt and pepper
• 4 basil leaves


Preparation
First step:
(Preferably in the morning)


In a bowl, put 8 tablespoons of olive oil, juice of 1 lemon and minced basil.


Pour this marinade over 4 of the previously boned mackerel fillets (note: the fillets should be well "soaked" in this marinade).


Place in the refrigerator.


Take out the butter.
Second step:


In a saucepan, pour a drizzle of olive oil over the 4 remaining mackerel fillets, and a pinch of salt.


Cook gently covered whilst stirring.


Stop cooking when the fillets become crumbs.


Store.
Third step:


In a container, put the butter (now softened), white cheese, finely minced fresh onion (keep some rings for decoration) and the juice of 1 lemon.


Mix well.


Add the mackerel pieces, mix well, and then adjust the seasoning.


Place in the refrigerator.
BEFORE SERVING
(at least 2 hours after)


Cut the slices of bread into equal strips, 2 per person.


Toast the bread and store.


Remove the marinated mackerel fillets as well as the mackerel rillettes.


Cut the mackerel fillets widthways according to the dimensions of the bread.


Spread the slices of bread with Nori tartare.


Arrange the pieces of marinated mackerel on 4 slices, slightly overlapping.


On the others, arrange the rillette.


Garnish with fresh onion rings.


Enjoy.
The special trick
TOP TIP

You can also make it with: a slice of bread, nori, rillettes and pickled mackerel. You can garnish it with leek sprouts.