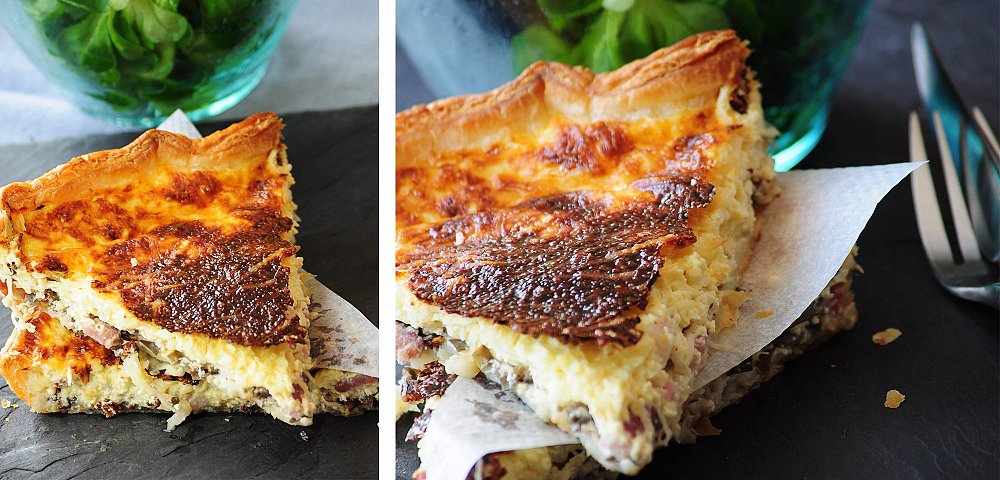 Surf and Turf Quiche with dulse

Ingredients
Makes 1 quiche:
◦ 4 medium sized organic eggs
◦ 15cl of animal-based or vegan pouring cream
◦ 10cl of animal-based or vegan milk
◦ 60g of desalinated dulse
◦ 2 slices of smoked bacon or smoked tofu
◦ 100g of grated Gruyère cheese
◦ Puff pastry or shortcrust pastry
Preparation
First step:
◦ Coarsely chop the Dulse.
◦ In a bowl, beat the whole eggs, add cream, milk and Dulse.
◦ In a frying pan, fry the bacon cut into pieces.
◦ Preheat the oven to 180°C.
◦ Roll out the dough and garnish a quiche mould.
◦ Lay the lardons on the bottom of the pan, pour in the quiche mixture, and add the grated cheese.
Second step:}
◦ Cook for 35 to 45 minutes (insert a knife end, it should come out without any trace of cream).
◦ Enjoy warm with a seasonal salad.