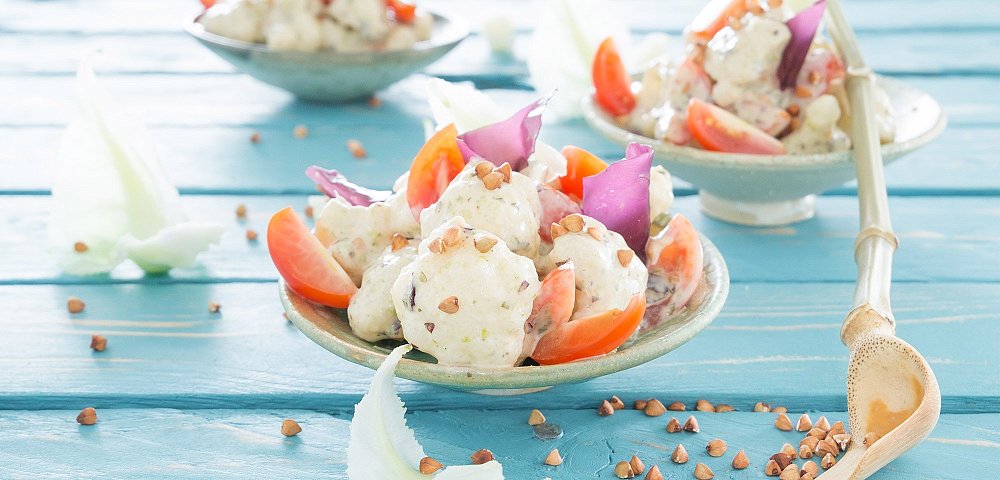 Cauliflower piemontaise with our vegan mayonnaise - Mayonnalg - and kasha
Vegan

Sans gluten

15 min

5 min
Ingredients
Serves 6:
◦ 1 165g jar of Mayonnalg
◦ 1 cauliflower
◦ 15 cherry tomatoes
◦ 4 tbsp of vegan, oat-based cream
◦ 1 tbsp of mustard
◦ 2 tbsp of kasha (roasted buckwheat)
◦ Salt, pepper and cider vinegar
Preparation
◦ Heat 2 litres of water covered with 2 tbsp of coarse salt.
◦ With a knife, separate the cauliflower florets (small bouquets), immerse them in boiling water, remove them when they are still crunchy, chill in ice water.
◦ In a salad bowl, mix the mayonnaise with the mustard, cream and kasha with a whisk.
◦ Quarter the tomatoes. Mix the previously drained cauliflower florets with the tomatoes and sauce. Adjust the seasoning with salt, pepper and vinegar if necessary.
The special trick
TOP TIP

Eat it while it's fresh and garnish with buckwheat and cherry tomatoes.