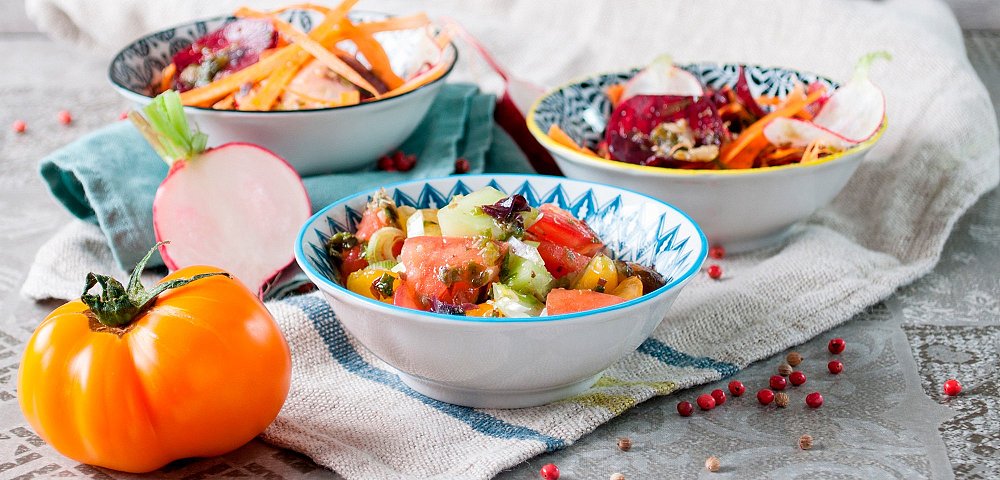 Raw vegetables as easy as it gets

Ingredients
Serves 4:
60g of classic (or Provençal/lemon confit) seaweed tartare
RECIPE 1:
◦ 4 carrots
◦ 8/10 red radishes or 1 horseradish
◦ 1 raw beetroot
◦ The juice of 1/2 a lemon
RECIPE 2:
◦ 4 fresh field-grown tomatoes
◦ A 15cm piece of cucumber
◦ 1 spring onion or 1/2 a red onion
Preparation
◦ Cut the raw vegetables as usual (grated or in thin strips according to preference).
◦ Season with seaweed tartare, lemon juice and sea salt.
◦ For tomatoes, lemon juice is not needed. The juice of the tomatoes with salt will suffice.
Most important: Choose seasonal vegetables!
The special trick
TOP TIP

When you have lots of tomato juice, set it aside, toast the bread, brush the juice over it from the raw vegetables and spread on fresh goat's cheese and seaweed tartare.